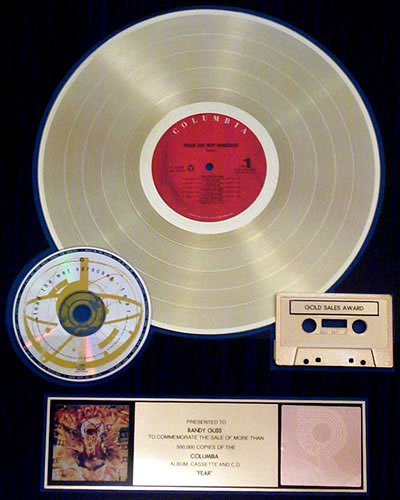 It all started in Santa Barbara, California, with a simple game of foosball in Toad the Wet Sprocket drummer Randy Guss's garage. A bunch of Toad fans were hanging out after an invitation to the Guss's house. Randy won the foosball game, but handed his Gold Record from Fear over to fan Steve Panhorst. Steve and the others resisted in accepting this prized item, but Randy insisted. He said he wanted to thank all of the fans for their support over the years. It was an incredibly generous thing for him to do!
Once the fans departed from the Guss residence, they immediately wondered exactly what to do with the "prize". They all agreed that every Toad fan should have a chance of seeing it, and getting their picture taken with it. They thought of sending it from city to city, much like the Stanley Cup, but that idea was immediately dropped when they realized how easy it would be for it to be lost, damaged or stolen during its travels. Fan Ameena Azzouni told the story of the lawn ornament that traveled the world, being photographed in many places. This sparked a better idea and also set the tone for the type of pictures that would be taken. Steve, who traveled almost constantly for his job, would be dubbed the gold record's first "trustee" and would take the record with him when he's on the road. People would be encouraged to take pictures in famous, infamous, or at least personal places, if at all possible...adding to the fun. It seemed like a great way for many people to be able to share the record.
Since then, the record has traveled literally tens of thousands of miles and has met up with fans in some predictable places...and some rather unusual places. Fans Michael Mazur, Chris Kennedy, Barry Remis, Val Brown, Jeni Barovian (now Jeni Panhorst), and Lisa Didier have helped reach more Toad fans by taking the record on road trips. Some of the pictures from their trips didn't get the whole record in them. Okay, you have to look really closely at some of their pictures to find even a corner of the record. But, it's there. Oh, well. Despite the minor photography accidents, their trips were still a lot of fun, as you can tell by the pictures. And, that's really the whole idea...
This site will keep Toad fans updated with the latest "tour dates". As more pictures with the record are taken, they'll be added here for all to see. Also, you can read people's stories about getting pictured with the record. Click on the Contact Me link below to put your name on the list of people who'd like to "meet" the record. (You will be notified when the gold record is heading your way.)
Statistics:
Certification - 11/6/1992
Given to Fans - 10/24/1998

Pictures - 378
Toad Fans - 283

Tour Stops - 224
Cities - 139
Countries - 4
© 1999-2023 panhorst.net, L.L.C.